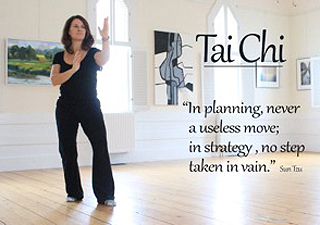 Energize Body & Mind is offering a second Tai Chi class! Yang style short form for beginners is starting January 4, 2018 at Nadine's Dance Center in downtown Gloucester, MA. Classes will be held 10:45-11:45.
Tai Chi is a complete system of exercise in which the practitioner's mental focus, breathing, and movements are connected. This focus on whole body coordination and mind-body connection trains the body to move more efficiently and reduces physical stress on the joints and tissues of the body.
Tai Chi is an ideal form of exercise for all aspects of health care. Several studies have shown that Tai Chi practice is beneficial for both prevention and treatment of ailments including chronic pain, mental illness, and heart attack. Click here for a recent CBS report and here for a pubmed article.
Tai Chi benefits can include:
Increased balance
Increased strength
Increased body-mind awareness
Increase in circulation
Improved coordination
Improved body awareness
Enhanced flexibility
Increased energy
Improved ability to move body as a whole unit
Stress reduction and relaxation
Decreased pain, especially in joints
All kinds of people from young athletes to those in their 90s enjoy the fun and health benefits of Tai Chi. Join us!
Email me here to sign up.