What's the new thing everyone's been doing to ward off cold and flu? Using essential oils.
There are many different essential oils and numerous ways to use them. Where to begin?
I'm fairly new to essential oils (EOs) but so far I like what I smell. My favorite way to use them is to add a few drops to an epsom salt footbath (AHHH!) but I've also had success using diluted EOs on my skin to moisturize, soothe, and heal. Many of the oils have medicinal properties (like balancing hormones, reducing anxiety, soothing irritated skin, awakening the mind, the list goes on… And they smell so much better than the artificial fragrance found in most commercial skin products, without the harmful chemicals!
So what's my latest favorite way to reap the benefits of essential oils (and probably the most popular)? Diffusing them. I hesitated to buy a diffuser because I've been in rooms where I found the scent to be too strong. But I've found a diffuser that puts out just the right amount of aroma therapy. Not only is the quality and amount of EOs important, but as it turns out, there's much more to buying a diffuser than I thought. After doing a bit of research and speaking with aroma therapist and herbalist John Crowley of HerbSense in Newburyport, MA, I settled on The Heavenly Scent Ultrasonic diffuser.
Some diffusers use heat but as the Heavenly Scent manufacturer states as one of their special features: "Generate negative ions and supply greater therapeutic benefit than the use of other heat based diffusers. Negative ions can remove particles as small as 0.03 microns. This allows the removal of particle pollutants such as bacteria, fine dust, viruses, etc." Here's the point, if you're going to bother diffusing essential oils, you want to get the therapeutic effects, not just the aroma. Diffusers that use heat may alter or destroy certain constituents of the oils thereby negating the benefits. With the Heavenly Scent diffuser not only is the integrity of the essential oil being maintained, but the oil is broken down to a size small enough for your body to utilize it and reap the benefits.
John explains more unique design benefits of the Heavenly Scent Ultrasonic Diffuser:
Uses a unique dual cup system to separate the essential oils from all metal components to prevent corrosion and increase the life of the unit
A low water level sensor shuts down the unit when the water runs out, increasing the life of the unit
Offers 6 integral timer options and can run for up to 9 hours
Uses Ultrasound at 2.5 Mega Hertz to atomize the oils and break down very thick oils that typically clog a nebulizer tube or stick indefinitely to the bowl of inferior ultrasonic diffusers
Very low maintenance, just rinse and let dry
The Heavenly Scent Ultrasonic Diffuser
    Available for $89 from Energize Body & Mind ($104 online)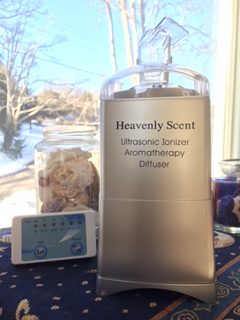 For more info on essential oils and there uses:
    https://draxe.com/essential-oil-uses-benefits/
    For more info on the diffuser: