What is Reiki?   \rā- kē\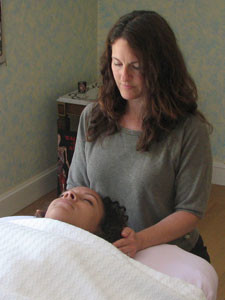 Reiki is a relaxation technique that can help you return to balanced functioning on every level. The word Reiki comes from the Japanese Rei, meaning "of the universe" and ki, meaning "vital energy" (similar to the Chinese word chi and the Sanskrit word prana). The goal of Reiki is to facilitate the recipient's own healing response.
Reiki gently influences your individual system toward balance. Rather than being directed by the practitioner, Reiki activates according to the need of the person receiving the treatment. Unlike energy therapies, Reiki is accessed through, but not directed by, the practitioner. Both the practice and the experience of Reiki are closer to meditation than to any techniques of energy medicine. Reiki does not attack disease. Rather, Reiki supports our well-being and strengthens our ability to heal by encouraging balance.[1]
A Reiki session is usually performed on a massage table but can be performed just about anywhere. The client wears comfortable clothing and is often covered with a blanket for additional warmth and comfort. Guided by techniques established for Reiki, the practitioner gently places hands on certain areas of the client's body, holding each position for several minutes. The practitioner may also choose to hold each hand position several centimeters above the client's body, rather than directly touching the client; this is discussed before the session begins.
Reiki generally focuses on the whole body, but it may also focus on a localized area of the body to promote healing. By its very nature, Reiki empowers the recipient to take an active role in his/her own healing process, which fits the philosophy of Energize Body & Mind.
Benefits of Reiki
Promotes Self-Healing
Decreases Stress
Relieves Pain and Anxiety
Improves Coping Skills
Relieves Muscle Tension
Enhances Surgical Experience and Healing
Promotes a Positive Outlook
Provides Inner Peace and Calm
Reiki sessions are $75 for one hour.
Suzanne and her teacher share Reiki in their community at various times and locations. Currently, Reiki is offered the third Friday of every month from 10-12 at The Rose Baker Senior Center in Gloucester, MA. Call the RB Senior Center to sign up.

Read a short article here:
Senior Lookout: Reiki may aid self-care routine, says new columnist – Gloucester Daily Times, May 15, 2015
Some experiences my clients have had during a Reiki session include:
"My knee pain went away within the first 3 minutes"

"My heart rate relaxed"

"The twitching in my leg subsided"

"It was meditative"

"I felt more aware of the breeze, the smells and sounds. I was more clear."

"My pain is gone"

"The next day I woke up and realized I didn't have the ankle stiffness I have every day"
Better than medicine is care of the health. ~ Japanese Proverb
[1] Reiki: A Comprehensive Guide, by Pamela Miles