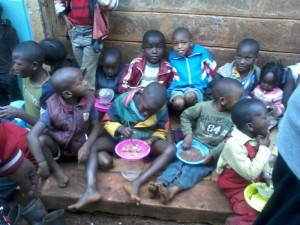 Children in Nairobi receiving food, love and Reiki, thanks to Suzanne Sweeney's mother-in-law, Reiki Teacher Prafulla Ganatra.
The Kangemi Charity is a grass-roots charity started by my mother-in-law, Prafulla (a Reiki master/teacher from Nairobi) and a few of her Reiki friends three and a half years ago. The goal is to feed the children of the Kangemi slums, located in Nairobi, Kenya. The slums have a population of about 120,000 with no access to basic facilities like sewerage and medical.
What started out with feeding 50 kids every Sunday has now grown to feeding over 300. In addition to one meal a week, they also provide clothing, school uniforms, and blankets when able. Thanks to some generous donations, the charity now pays the school tuition for 74 kids in primary school and 3 students in secondary school. There is definitely a need to do more.
It's amazing what a few kind, determined women can do. When we reach out and help our neighbor, the generosity and sentiment spreads. Others join in, and the number of those being helped grows along with new ways to help them. What's the latest? Prafulla has taught them Reiki:-) They practice on themselves and each other to ignite calm, healing, and well-being.

Help us support this wonderful cause and provide nutrition to these beautiful kids! Join us Tuesday, October 6, 2015 at the Community Reiki Share at the Manchester Community Center in Manchester-by-the-Sea, Massachusetts. 100% of the donations received by The Kangemi Charity go towards helping the kids. Please join our group, led by Karen Pischke at Dreamtime Wellness ® at the Manchester community center for a 15-25 minute session of Reiki and know that your donation will help feed and cloth these amazing kids who live in some of the worst conditions. $20 per person. Set-up and light snacks from 5:30-6pm; Reiki circle and sessions from ~6-8.
Contact Energize Body and Mind on Facebook or email EnergizeBodyandMind@gmail.com to Register in Advance.