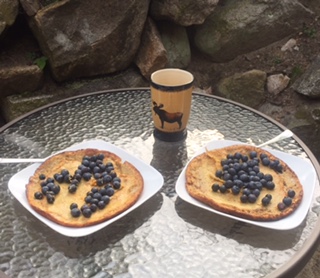 TGIF has a dual meaning in our household. Not only is another work week nearly complete, but it means tiger nut popovers for breakfast. There are many ways to make a popover and this one is especially unique, not only in shape, but it's gluten-free and paleo approved– rare finds in a popover. And it's quick and easy to make and absolutely delicious. You can share one popover or eat a whole one by yourself, depending on your appetite. Enjoy!
Prep Time: 10 minutes
Cooking Time: 12 minutes
Recipe yields 1 popover
Ingredients
2 eggs
1/2 cup tiger nut flour (I use Organic Gemini brand)
1/2 cup hemp milk
2 Tablespoons butter
Berries of your choice, optional
Preparation
Preheat the oven to 475F
If you're making your own hemp milk, add 2.5 tablespoons of hemp hearts plus 5 ounces of water to a Vitamix or blender and blend on high for about 10 seconds, or until fully blended.
Gently beat eggs in a mixing bowl, then add 1/2 cup hemp milk and mix.
Add 1/2 cup of tiger nut flour and mix enough to get the big lumps out, but don't over mix.
Add butter to a 9″ pie plate and put in the oven for a minute or two until it's melted.
Pour batter into pie plate on top of the melted butter and bake for about 12 minutes. Ovens vary so check after 11 minutes. It's done when the edges just begin to brown and "pop over" (above) the edge of the pie plate.
Top with berries if desired.
Tiger nuts are not nuts, they are tubers (root vegetables). They make a great snack and the flour is great for GF baking!
To see more recipes like this, check out my cookbook: The Optimal Health Cookbook: Your Guide to Real Food Made Easy.
Available on Amazon, Barnes & Nobles and more.