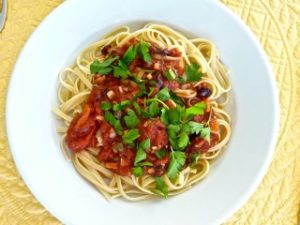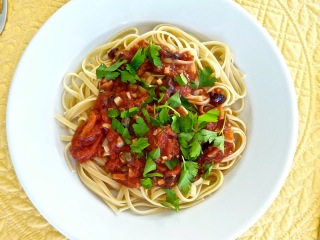 With summer's end drawing near and kids back in school (here come the homework filled evenings!) no one wants to spend a lot of time in the kitchen. My late summer goal is to relax at the beach or on my front porch as often as possible and to get out on the water as many times as I can before it gets too cold. In keeping that goal alive, I went for a last minute run on my paddleboard after work the other day and on my way home, stomach growling, I realized I hadn't gone grocery shopping and I didn't feel like doing it now. Whatever I could scrounge up in my kitchen was going to have to do. When I got home and looked, all I had in the fridge was garlic and a head of radicchio. (I always have garlic!) Now to the cabinets… Olives, jar of tomatoes, can of sardines, gluten-free pasta, herbs and spices. Got it!
I put on a pot of water then washed and chopped the radicchio. I sautéed some fennel seeds in olive oil and added the radicchio. While that was cooking, I added the pasta to the boiling water, and in another pan I sautéed the olives, garlic, tomatoes, and sardines. Boom, done. Within 15 minutes of coming home, I was eating a home-cooked delicious meal!
On most days, cooking for my family is about fresh veggies, herbs, spices, and a protein, always keeping it simple and usually under 30 minutes. But in a pinch (when the sea beckons) it's all about what you have on hand, in other words, how you stock your kitchen. With staples such as garlic, a jar of olives, a jar of organic tomatoes, my favorite pasta, and a tin of sardines, I managed a delicious meal of pasta puttanesca and sautéed radicchio w/fennel. And when I don't have a fresh vegetable on hand, a frozen one will do. Adding frozen peas to the puttanesca sauce is a quick and simple way to add in a veggie.
By keeping the appropriate staples in your kitchen, a delicious and stress-free meal is always at hand.
For "Tips for the Pantry, Foods to Always Have on Hand" and more recipes like pasta puttanesca, check out my book, The Optimal Health Cookbook: Your Guide to Real Food Made Easy.