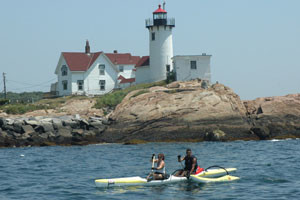 After working in the biotech industry for 20 years, I began to feel a strong pull to pursue my other passions. I asked myself numerous times over a 12 month period "what are my top 5 passions?" and the ones that consistently called me to duty were food, exercise, and the outdoors. Walking away from a wonderful company after 20 years was a huge decision that carried much uncertainty with it, but I knew I had to take the plunge and go for it.
A friend introduced me to the CHEK Institute, which has an incredible wealth of knowledge on many topics, including my passions. I geared up to learn all I could about diet and exercise but what I didn't expect was how the holistic approach to these topics opened me up to a much deeper understanding of mind-body and how to heal. I wasn't just learning about diet and exercise, I was learning how my body and psyche respond to everything in my environment and how awareness of that response is key to knowing how to nourish my body and mind to gain optimal health.
Becoming aware leads to positive change and though it is a simple concept, it's not always an easy undertaking. I've always been physically active with a strong affinity for outdoor activities. Since 1999 I participated in the annual Blackburn Challenge, a 20-mile open water circumnavigation of Cape Ann, 13 times in various water craft and was president of the Cape Ann Rowing Club that organizes the race for 5 years. Together with a colleague, I initiated and coached an all women's relay canoe team who were undefeated in the Run of the Charles for the 7 years we raced together. Meanwhile, I logged over 500 miles on the Appalachian Trail, sharing the goal of hiking it all section by section with my father. During these "prime" years I was in a car accident in which the car rolled 4 times, damaging my knees and lower back, and shortly after quitting my job to study and make a career from my passions, I sustained a traumatic neck and thoracic injury then a year later was hit in the head when our outrigger canoe flipped.
The road to recovery and a healthy body requires motivation and includes a healthy mind. One cannot have a healthy body without a healthy mind. On my journey I began to recognize that my physical pains and disconnect had roots in not only my physical body, but also my mental, emotional, and spiritual body.
Through my teachings at the CHEK Institute and Functional Diagnostic Nutrition, my study and practice of Reiki, Qigong, and Tai Chi, plus much introspection, I make daily progress in attaining my optimal health. Life gets better everyday. You too, have the power to attain your optimal health. I can guide you on your journey.
Read more about me at:
Beautiful Voices: Suzanne Sweeney – Annmarie Gianni Skin Care, April 17, 2015
My mission in life is not merely to survive, but to thrive; and to do so with some passion, some compassion, some humor, and some style.
~ Maya Angelou