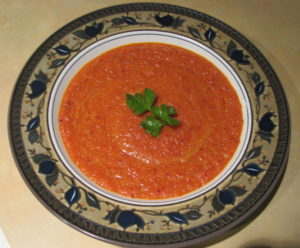 While a good smoothie can provide us with ​bountiful nutrition, it's not always the best option in cold winter weather. Winter is the time for hot drinks and warm soups and stews. But what about the convenience of a quick-to-blend smoothie? Not much beats it, but many soups come close. The soups in my book, The Optimal Health Cookbook: Your Guide to Real Food Made Easy, are simple to make, deliciously warming, and most can be prepared in minutes then cook​ed on the stove while you delight in the aromas.
If you follow this process, you can make soup:
Chop vegetables (precook if necessary)
Sauté spices, garlic, and onion
Add the vegetables to the spices and sauté about 5-8 minutes
Add broth (or other liquid)
Bring to a boil then cover and simmer
Purée if desired
Here is a recipe from The Optimal Health Cookbook: Your Guide to Real Food Made Easy:
Carrot Ginger Soup  (GF, SF, DF, NF*, VG) **
Total Prep/Cook time: 30 minutes
Serves 4
Ingredients
1.5 pounds of carrots
3-4 cups of water (depending on how thick you like it)
1-2 cloves garlic
3-4 Tablespoons of fresh ginger
½ an onion (optional)
1-2 Tablespoons butter or coconut oil* (use butter for nut free and coconut oil for dairy free)
½ teaspoon ground cumin
½ teaspoon ground fennel
¼ teaspoon cinnamon
¼ teaspoon nutmeg
¼ teaspoon cloves
1 teaspoon salt
Juice from ½ a lemon
½ cup of your favorite nuts or seeds, optional (cashews, sesame seeds, or sunflower seeds go well)*
Fresh cilantro for garnish (can also use parsley or dill)
*Use butter and do not use nuts if you desire a nut free recipe. I usually make this without the nuts and it's delicious.
Tip: I get a variety of orange, yellow, and purple carrots from a local farmer, which makes for a deliciously colorful soup.
Preparation
Scrub or peel carrots and chop into 1-inch pieces. Add carrots and water to a pot, cover, and bring to a boil. Once boiling, turn down to a simmer and cook until carrots are tender, about 10-15 minutes. Let carrots/water cool just enough to safely add them to a blender or Vitamix.
While carrots cook, peel and chop onion, ginger, and garlic. Heat butter or coconut oil in a small pot or skillet and sauté onions, if using, for about 3 minutes. Add garlic, ginger, salt, and spices and sauté on low heat for about 5 minutes more or until onion is cooked. Stir in lemon juice.
Add carrots in their water plus the spiced ginger mix to a blender or Vitamix. You can also add nuts or seeds to the purée, if using, or simply use them to garnish when plating. Blend briefly, in batches if necessary, to a thick purée or your desired texture.
Garnish with cilantro.
Enjoy!
Eating seasonally is an important tenet of a healthy diet and nurtured body. Eating seasonally refers not only to eating food that grows naturally in your region in a given season, but also eating warmer foods (more cooked) in winter and cooler foods (more raw) in summer. There are valid reasons to eat both raw and cooked food and the percentage of each that we should eat depends on the season, our current state of health and fitness, and our unique physiology. In Ayurveda there are 3 doshas, or constitutions, that describe our physiology. They are Vata, Pitta, and Kapha and each has varied innate strength of digestion and therefore can tolerate raw foods to varying degrees. Of course your current state of health and well-being is a critical factor in your ability to digest food as well.
To find your dosha, click here and scroll to the bottom of the page.
Vata people thrive on warming foods like soup and are least able to tolerate raw food as they typically don't have strong digestion and the qualities of the raw food can bring them further out of balance, especially in fall and winter. For Vata types, warm, moist, cooked foods are grounding and nourishing.
Pitta people typically have strong digestion and do well with cooked foods while also tolerating raw food the best of all the dosha types. Pitta types would do best to eat warming foods in the winter though they can continue to eat raw food in moderation too. The cold, dry quality of raw food can be balancing for Pittas, especially in summer.
Kapha people may benefit from the lightness of raw foods if their digestion is strong. However, the cold element can aggravate Kapha, so raw foods should be eaten in moderation if you have sluggish digestion, especially in winter. The lighter the food, the more balancing it will be for Kapha types, so carrot ginger soup would be a better choice than a hearty meat or cream soup. I also have a butternut squash soup recipe in my book that is delightfully light and fresh yet warming for winter, perfect for Kapha!
No matter your dosha or state of health, a fresh, healthful soup is almost always a good source of nourishment for body and mind. Keep warm and enjoy good food and friends during this beautiful winter season.
**GF=Gluten-free, SF=Soy-free, DF=Dairy-free, NF=Nut-free, VG=Vegetarian